THE FOMOD :
WARZONES 2015 now has a handy, dandy FOMOD which will make installing it a breeze.
The FOMOD has been tested with both NEXUS MOD MANAGER and MOD ORGANIZER.
The default options of the FOMOD should be fine, but we've offered you a few options.
Be sure to select CORE FILES otherwise WZ will not work.
ESP : This is the preferred file-type for WZ.
ESM : Provided for those folks who make be inclined to attempt to update from WZv5B.  This is not recommended.
WARZONES ARMORY TEXTURE SIZE OPTIONS
WZ15 includes a ton of new armor and weapons via the ARMORY.
Your options for texture sizes are:
LOW : BEST PERFORMANCE : ~300 MB total disk space needed: Vanilla-resolution textures.  Absolutely the best choice for performance conscious players, players struggling with framerates already or players that don't care about high-resolution textures.  Using this option is advised for most setups, especially with large, resource intensive load orders.
MEDIUM : Best for BALANCE : ~ 900MB total disk space needed : 1K textures that add a great deal of detail.  May have some impact on frame-rate, particularly if you are using a SpawnCount of 2 or 3.
HIGH : BEST FIDELITY : ~ 2.2GB total disk space needed : For users who love their HD. Despite the optimization pass, this option will impact performance in WarZones to a potentially significant degree; if you DO try this option and experience performance issues, please reinstall with the Medium or Small Textures before posting concerns on the forums.
NOTE: This option may cause the installer to not respond for a moment, if you are on a 32bit OS manual install is advised if you want this option. That said if you are on a 32 bit OS, DON'T use this option.
LOAD ORDER
It's beyond the scope of this document to determine where WARZONES best fits in your load-order… although generally speaking, I'd put it as close to the bottom as possible.
ONCE WARZONES IS INSTALLED : HOW DO YOU KNOW IT'S WORKING?
Three things will happen almost immediately:
1 – You'll see a MAP MARKER for MOUNT PAIN
2 – Within a few moments, MCM will register the WARZONES MENU.  There may be a delay depending upon how many other mods you've just installed, where you are currently standing, how many other scripts are firing, but be patient, it'll happen.  If your delay is more than 2 minutes and/or you never get the MCM but do get the MT PAIN marker and the wrecked house, you very likely have a very polluted save and you will very likely need to clean it before you'll get any results from WARZONES 2015.  Click here for how-to check and clean your save.
3 – This wrecked house will appear just to the SouthWest of Whiterun: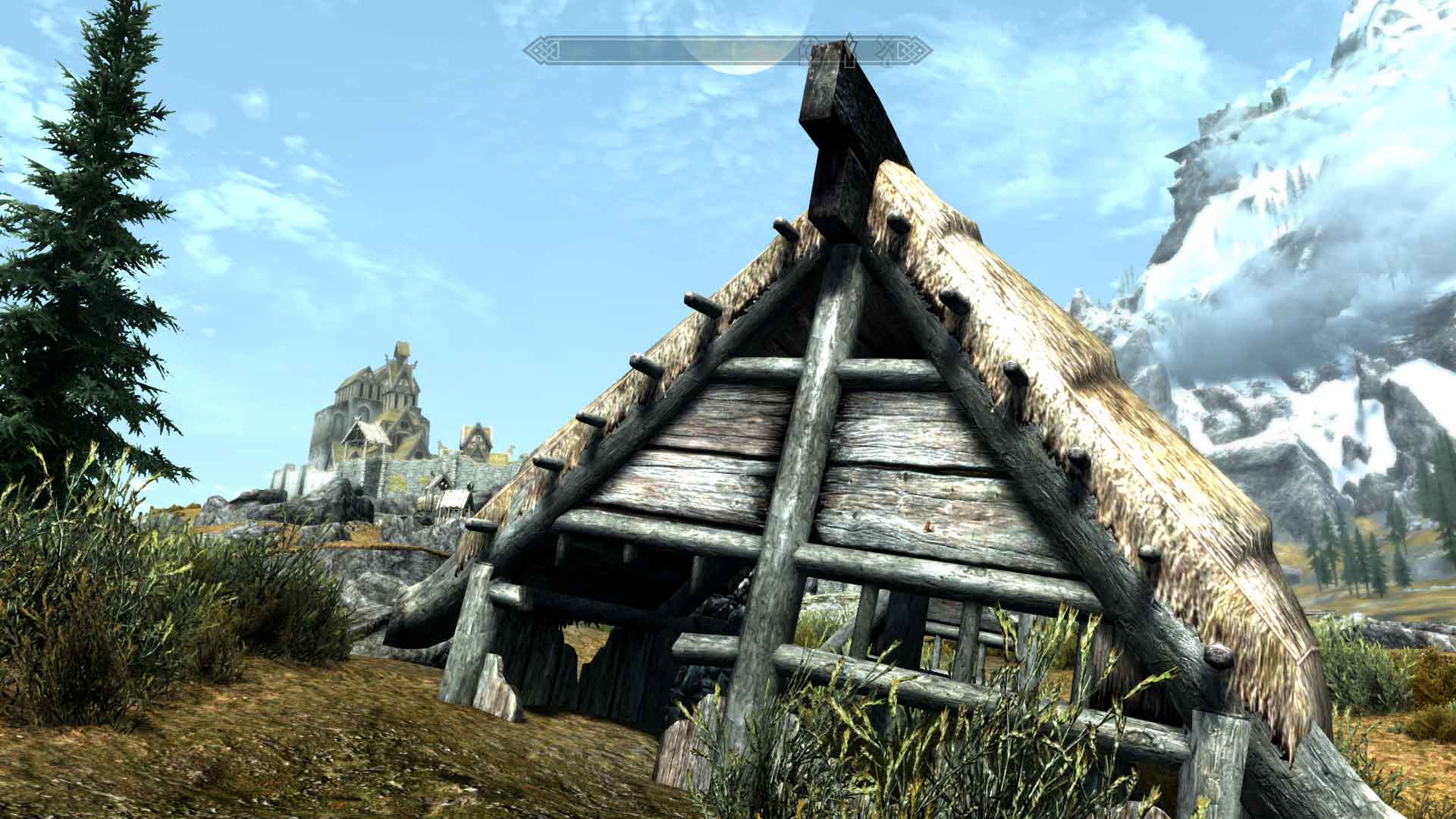 If one or all of those indicators fail, then it is possible that your download was corrupt.  It is also possible that your SaveGame is quite dirty and in need of a good scrubbing.
If, after attempting a 2nd download and cleaning your save, you are still experiencing an issue, please report it via our BUG REPORT link and we'll do the best we can to get you up and running.
---